Whether it's a financial matter and a new boat isn't an option or the fact that a given owner loves the layout of his current model and the engines are just tired, more people are looking at repowering.
The cost of outboard motors in the past few years has many owners considering repowering their boats with used engines instead of brand new engines.
It can be as easy as sticking with the same brand and power and bolting on newer versions or maybe a more complicated project that changes the horsepower and number of engines.
Marine Parts Warehouse makes an Outboard Repower a painless endeavor.
Let's take a closer look at each step individually so you know what your getting into with a repower.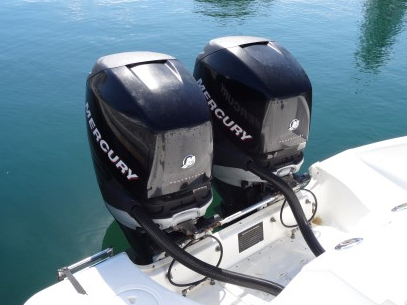 Is it time for a new pair of outboard motors? Repowering with used engines has become a more popular choice for boatowners in recent years as outboard prices have gone up.
1. The Boat
In any re-power project the first step needs to be making sure that the boat is still healthy. Spend a few hundred dollars on a good surveyor and find out if the boat is sound. Is the laminate sound? Are the stringers still attached? Is there water intrusion into the transom? A boat that looks great on the outside can have hidden problems, so get it checked out. Remember, many boat builders did not realize until around 1980-85 that polyester resin is water permeable – that's when builders started using vinylester resin, which is not. Some builders were slower to adopt this resin as a skin coat than others. Your boat may be heavy because of added water weight.
2. Top Speed
Most outboard boat owners care about top speed, so we will address it. On any given hull engines with the same horsepower should theoretically have the same top speed. But there is more than horsepower and weight that makes one engine different than another. The lower-unit gear ratio and the prop geometry are two other defining factors. Generally, every engine is engineered for a specific purpose and the gear ratio that is dialed in is a careful calculation that takes into account the strengths and weaknesses of the engine, the performance desired, and the prop geometry that is recommended. Prop geometry is also a variable that an owner can largely control. Certain pitch and diameters will produce a higher top speed than others, but usually at the expense of other characteristics.
Likewise, a boat propped for maximum fuel efficiency at normal cruising speeds will usually not produce the highest top speed possible. The props generally recommended by the engine maker are a fair compromise between top speed and fuel efficiency.
3. Weighty Questions
Once the decision to repower has been made, the next choice is the engines. In the early days of four-stroke outboard design and construction, these motors were much heavier than their two-stroke counterparts. Many boat manufacturers cautioned against replacing original two-stroke outboards with newer, heavier four-strokes because transoms weren't designed to handle them. Today, thanks to improved design, most outboard engines are relatively close to each other in total weight. Those weight differences are no longer an issue.
Compare Apples to Apples. When making weight comparisons, be careful to compare the same shaft lengths and the same components.
For example, new Evinrude G2 engines have internal steering gear and internal oil tanks, whereas all other brands rely on external steering and oil tanks which are not counted in the engine's weight – weight that nevertheless is required. Robust Gear Cases. Years ago outboards were designed first for freshwater use and speed, so lower unit gear cases were made as fine as possible to reduce drag and weight. But some manufacturers have moved away from that concept and now offer more robust gear cases than others, which adds weight and slightly more drag. Even though they add more weight and drag, most consumers like having more reliable lower units when tackling choppy offshore conditions at high speed. Marine Parts Warehouse offers quality used 2 and 4-stroke engines. To see our current inventory, please click HERE.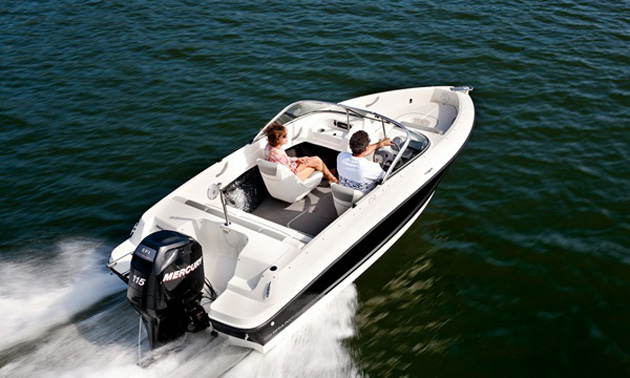 4. Power Surge
For many owners, the temptation to go up in power becomes part of the repower decision. First, check the boat's capacity plate for the rated horsepower. If the old motors were the maximum horsepower, then that's the number. Do not under any circumstances exceed the USCG rated horsepower. It makes no difference if the weight of the new, more powerful engines is the same as the old engines; horsepower is always the limiting factor.
5. Two-Stroke or Four-Stroke?
When 4-stroke engines were introduced in the 1980s they had the advantage of better fuel economy and the disadvantages of higher weight and weak low-end torque. But since then many things have changed. Two-stroke outboards still have the advantage when it comes to low and mid-RPM range torque, something that bass anglers and towing-sport enthusiasts care about. And today the Evinrude G2 outboards – even though they are 2-stroke – can go head-to head with most 4-stroke engines on overall fuel economy. At the same time, 4-stroke engines have become lighter and have improved mid-range torque. The 350-hp Mercury Verado uses a supercharger to compete with 2-stroke engines on low-end torque. Fuel Injection. Most outboard engines sold these days have one type or another of fuel injection and have eliminated the old-fashioned carburetor. Some outboard makers inject the fuel into the intake manifold and others inject it directly into the cylinder itself. For example, the Evinrude new G2 engine is built around the fuel injector in the cylinder. No matter how the fuel is injected, the new systems are more reliable and more fuel efficient than the old carburetor system.
6. One Engine or Two?
With the improved reliability and increased power output available in today's outboards, sometimes going with a large single instead of two smaller twins or a pair instead of triples is the smart choice. For example, twin 200-hp four-cylinder Mercury Verado outboards weigh a combined 1,020 lb. (462.66 kg), resulting in a pounds-per-hp ratio of 2.55 pounds (1.16 kg). A single Mercury Verado 350 weighs 668 pounds (303 kg) which results in 1.9 pounds (.86 kg) per hp. Factor in the additional weight savings of the missing battery and rigging for the second motor plus the reduced drag from not having the second gearcase in the water and the speed difference would be negligible. Fuel consumption might also be improved.
7. Transom Strength
It would be best to check with the boat manufacturer to make sure that a given model's transom can handle having that much power bolted to a smaller central location in a large single installation, instead of having it spread across the boat's stern with twins. Additionally, fishermen who run far offshore may still be more comfortable with the redundancy of having the second or third motor to get home. On a more extreme level, Seven Marine makes the largest outboards in the industry with V-8 powerheads based on a General Motors LS engine. They are available in 557 and 627-hp and were originally intended to replace larger numbers of lower-output motors on the back of a given boat.
8. Changing Brands is OK
Many mechanics might recommend against changing brand of outboard because it would require re-rigging the boat. But the fact is, since you are repowering, the chances are that the engine you are replacing has outdated cable steering and throttle control. One of the reasons to repower is to get rid of this old-fashioned system. Marine Parts Warehouse offers used and new controls and harnesses to convert to a different brand in a repower.
9. The Digital Age
New motors often mean new technology, including digital shifting and fly-by-wire instruments and engine monitors that plug in with a single wire. All Evinrude E-TEC G2 models come with digital controls, i-Trim automatic trim and integrated hydraulic steering. The E-TEC G2 150, however, can be had with conventional steering to make it more feasible for repower projects. Evinrude also makes a Universal Repower Rigging harness that converts standard mechanical shifting and throttling to digital. Mercury's V-6 Verado series outboards come with Digital Throttle and Shift (DTS) standard, but it's an option on the four-cylinder 175- and 200-hp models. Yamaha's Command Link Plus system is standard on its V-6 Offshore Series from 225 to 300-hp.
10. Instrumentation
Along with digital control has come digital instrumentation. Generally, all information is not contained on one multi-purpose readout that monitors all important aspects of the engine. All engine makers have these new digital readouts.

11. Maintenance
This is a subject that is not much discussed but one where the engine companies vary greatly on how much regular dealer maintenance is required to not only keep warranties effective but also to maximize the life of the outboard itself. This can be an expensive differentiation so consumer due diligence is required.
12. Other Components
Depending on the age of a boat, an owner will want to at least inspect and analyze his boat's fuel system to ensure that it will work with today's ethanol-blend fuels. This includes the tank, hoses and fittings. Ethanol doesn't necessarily hurt engines, but it can break down non-compliant hoses and that can lead to clogged filters, starved injectors and other problems. Other equipment that might need to be upgraded can include fuel-water separators and batteries depending on age and amperage output.
13. Special Features and Benefits
Every outboard engine company has its own differentiating features and benefits, which they outline on their website. For example, the Mercury Verado is the only supercharged engine on the market, and the Evinrude G2 series is the only one that has internal steering. It is best to visit their websites to find their features. If important items are not mentioned, chances are they don't offer it.
14. Joysticks
The major outboard makers now have joystick control for multi-engine installations. They definitely do make docking and tight situations easier to negotiate. Seriously consider them – particularly for multi-engine rigs.
15. Warranties Have Changed
The new breed of engines generally have increased and improved warranties. Some last as long as five years, and we have seen boat show specials as long as 10 years. Make sure the warranty is factory backed (not a third-party service contract) and non-declining. Read the fine print.
How to Pick a Repower Outboard Engine
The beauty of repowering an outboard-powered boat regardless of the brand is that there's plenty of room to work. But make sure you are not spending more money on the engine than the boat is worth.
Repowering an outboard-powered boat can be a viable option for a boat owner who either can't afford a new boat or new engines or someone who simply loves the boat he already has but wants new power.
Different motors will breathe new life into the boat and often improve performance and fuel efficiency.