The most common thing I get asked over the phone to assist with is diagnosing outboard ignition problems. Whilst I am always happy to try and help in diagnosis, it can be very hard to do so over the phone. Apart from having the right tools to assist in diagnosis, a basic understanding of how a two stroke ignition system works is fundamental. The following is a list of what makes up an ignition system from start to finish.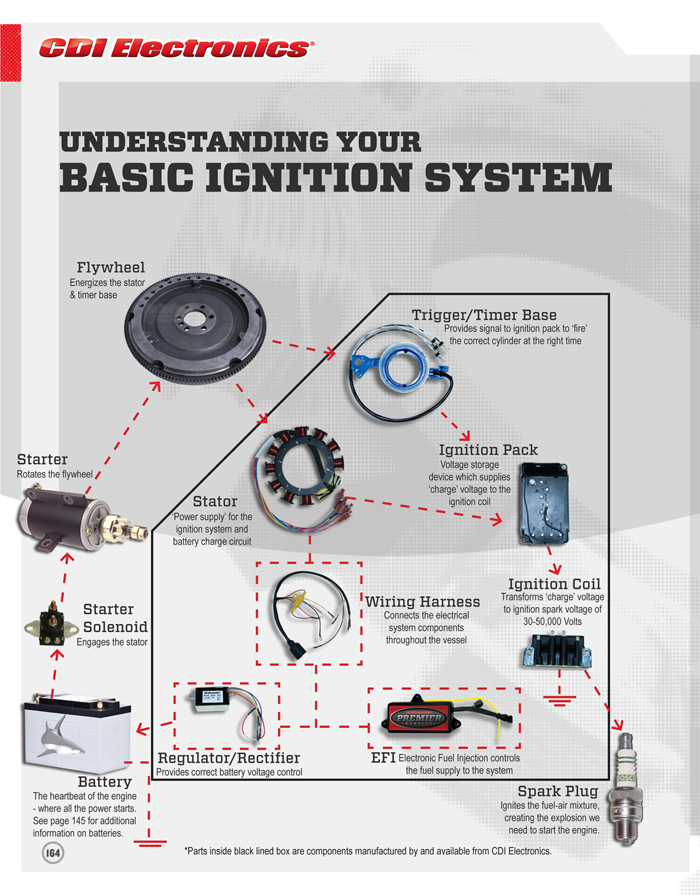 1. Battery
Your boat battery is where it all starts. Outboards require higher cold cranking amps than many other engines and therefore a dedicated marine battery with the correct cranking capacity for your outboard is a must. Without the correct voltage, your outboards starter motor may not be able to crank the flywheel fast enough to activate your ignition system.

2. Ignition Switch
To activate your engine and crank it over you need a switch. Every electric start outboard has an ignition switch and it will open and shut the starter solenoid. It also turns the engine off by shorting the CDI unit (power pack or switchbox) to ground. A faulty ignition switch can cause all sorts of problems with your ignition system and is more often than not overlooked.

3. Starter Solenoid
This is effectively a gate. The ignition switch sends a signal to the solenoid when you turn your key allowing it to open; this allows voltage from your battery to pass through it to the starter motor. If you're turning your key and the starter motor isn't cranking then you may have a faulty solenoid.
4. Flywheel
When your starter motor is turning over it is spinning your flywheel to create voltage for your ignition system and battery charging system. On the inside of the flywheel are magnets that spin around a stator at high speed to create AC voltage. The flywheel also spins around the trigger (or timer base) to determine your engines firing sequence or timing. Broken or loose magnets on your flywheel will cause ignition issues so they are definitely worth checking.

5. Stator
Your stator creates voltage for two reasons. To send voltage to your CDI unit (power pack or switchbox) to run your engine and to send voltage to your rectifier/regulator that will charge your battery. Engines with no spark or intermittent spark on one bank can be caused by a faulty stator.

6. Trigger
Nestled in with the stator under the flywheel is the trigger (or timer base). Probably the most overlooked part of the ignition system the trigger sends a signal to the CDI unit (power pack or switchbox) and tells it when to release voltage to the coil. A faulty trigger will result in no or intermittent spark and is often misdiagnosed as a fault with the power pack. Additionally, a faulty trigger shorting to ground will damage a power-pack so be careful if fitting a new power pack.

7. CDI Unit
Depending on your outboard brand these units will go by different names but, they will all have the same function and that is to store voltage from the stator and release it to your ignition coil when the trigger tells it to. Often a faulty CDI unit will see intermittent or no spark on cylinders and may only breakdown when your engine warms up.

8. Ignition Coil
Receiving voltage from the CDI unit the coil will amplify voltage and shoot it through to the spark plug. Faulty or damaged coils will have weak or no output. We see a lot of coil failures where customers are using a spark plug that is not recommended by the manufacturer.

9. Spark Plug
This is the last component in your ignition system. The spark plug receives voltage from your ignition coil and creates a small electrical spark within your engines combustion chamber igniting your engine's fuel and creating the explosion that drives the piston to spin the crankshaft and the flywheel where the ignition process begins over and over again. Spark plugs can foul up with oil and carbon on two stroke engines resulting in poor spark. They are by far the easiest part to check first.

10. Rectifier/Regulator
Fitting in somewhere between all this is your engines rectifier/regulator. It is always working and its job is to replace the voltage in your battery that you've lost due to engine cranking, using electric tilt and trim, running fish finders, lights or other accessories on your boat. It converts the AC voltage to DC voltage and regulates how much voltage it is putting into your battery. In a lot of cases, a rectifier/regulator also sends the signal to your RPM gauge (tacho) telling you what revs your engine is doing. Sometimes the first sign of a faulty rectifier/regulator is when your RPM gauge stops working and this is very common with older Evinrude/Johnson outboards.
There are variances here and there, but I've gone for the most common and basic approach on this occasion. I hope the above has given you some insight into how your outboard ignition system works. Keep these points in mind if you ever have a potential ignition problem and hopefully, it will make a diagnosis that bit easier. But remember, in order to diagnose ignition problems properly a Digital Multimeter with a Direct Voltage Adaptor (DVA) is a must have tool for accurate diagnosis. Another very helpful piece of material is the CDI Electronics Troubleshooting Guide, click here for pages of helpful information on almost every two stroke engine.